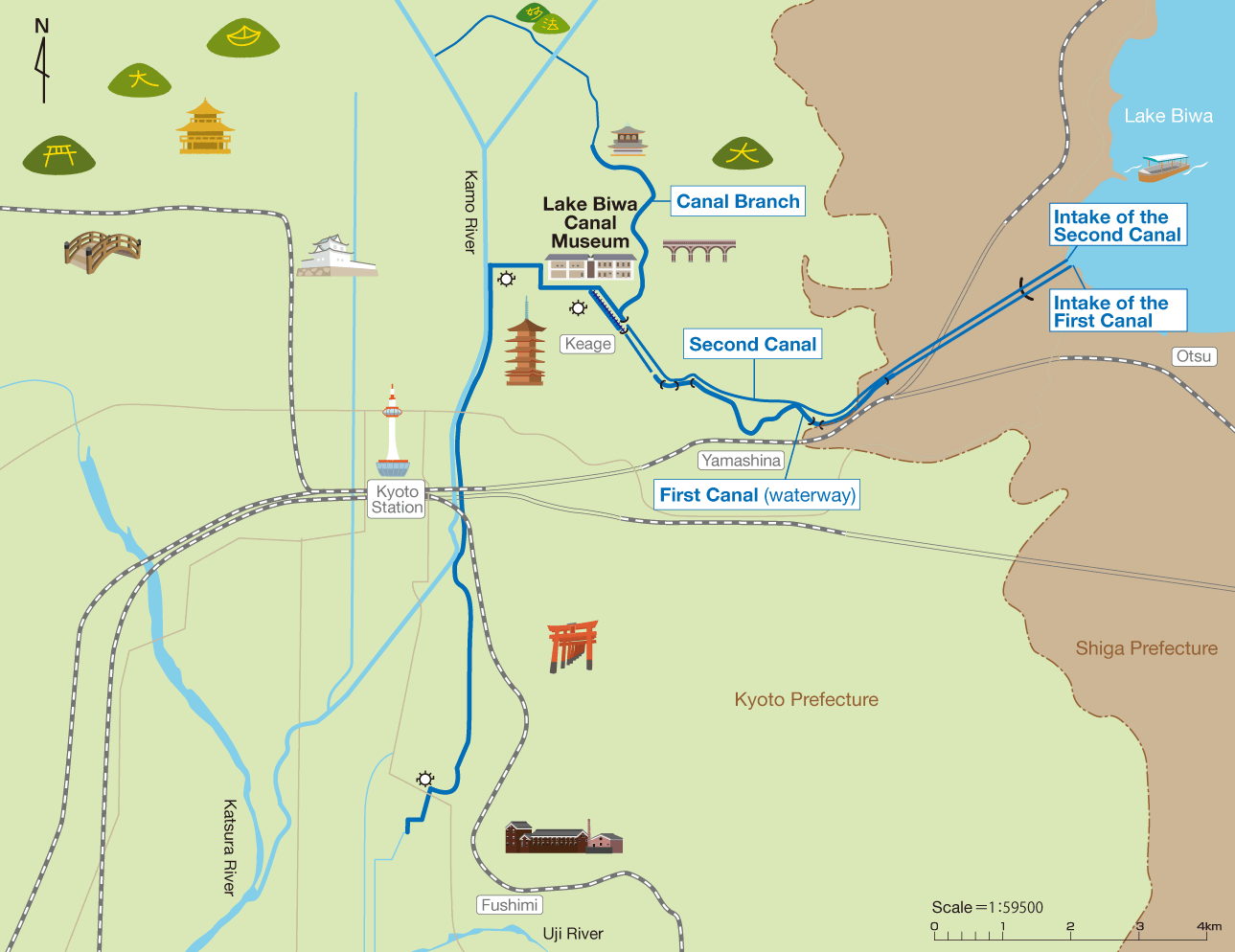 "Lake Biwa Canal," one of the greatest ot Industorial heritage sites in Kyoto, is a facility that is still actively in use. It consists of three major canals. "The First Canal" extends from Kannon-ji, Otsu City to Horizome-cho, Fushimi-ku, Kyoto City and it is approximately 20 km long. "The Second Canal" is approximately 7.4 km long and it runs in a complete tunnel along the north side of "The First Canal". The third canal is called "Canal Branch", which is 3.3 km long and it is divided from Keage area, Sakyo-ku and reaches to Kita-Shirakawa.
Kunimichi Kitagaki

Sakuro Tanabe
The 3rd Kyoto Prefectural Governor, Kunimichi Kitagaki was depressed to see Kyoto declining due to a decreasing population with the capital having been transferred to Tokyo after the Meiji Restoration. Then, he planned the construction of "Lake Biwa Canal" as a reconstruction measure aiming for industrial development using the power of water irrigated from Lake Biwa.
The construction launched with Sakuro Tanabe, who had just graduated from the government's engineering academy in Tokyo (the current Tokyo University), took four years and eight months, and was completed in 1890 (Meiji 23rd year). Hydraulic power generation and waterwheel power utilizing Lake Biwa Canal led to significant development in the industry, and ship transportation brought more people and materials coming and going, providing new vitality to Kyoto.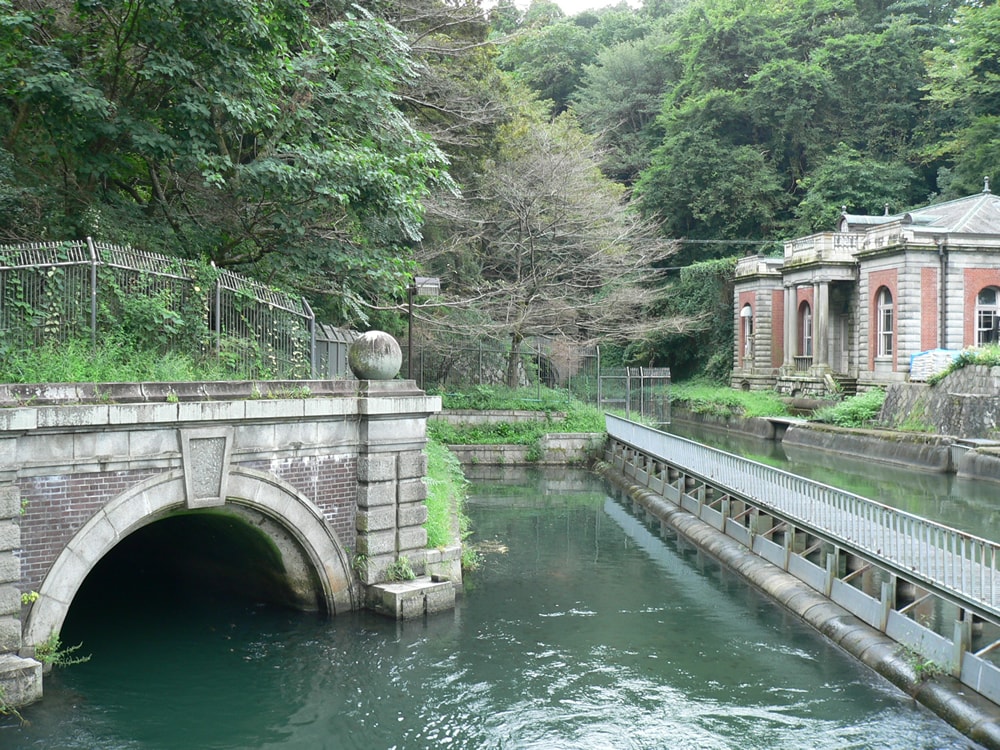 Confluence of the First and the Second Canals
20 years later, the second canal was constructed to pursue a more abundant volume of water, and maintain the water supply. In addition, expanding the road width and starting operation of the first municipal electric railway in Japan established the foundation for town development of the current Kyoto. For more than 120 years, Lake Biwa Canal has continued to bring life water to Kyoto.
History of Lake Biwa Canal
Meiji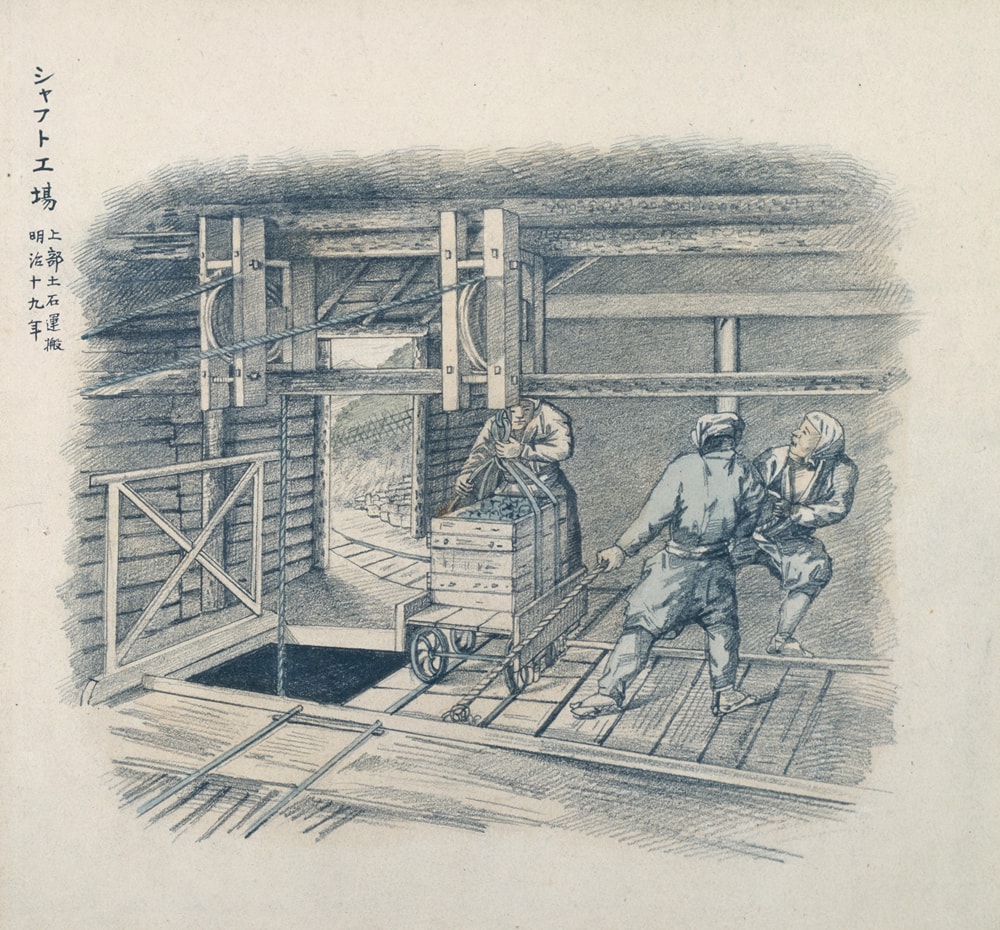 Transport of upper soil and stone at shaft factory (painted by Soryu Tamura)
In 1881 (Meiji 14), Kunimichi Kitagaki, who was appointed as the third Kyoto Prefectural Governor, planned to construct new factories, as well as to develop the coming and going of goods by boats, by utilizing power of water irrigated from Lake Biwa. He planned this in order to reconstruct the Kyoto that had declined as a result of damage from war at the end of the Edo Period, as well as from the actual capital transfer to Tokyo with the Meiji Restoration. He then started preparation, such as by appointing as the main engineer Sakuro Tanabe, who wrote a graduation thesis draft on Lake Biwa Canal construction and just graduated from the government's engineering academy in Tokyo.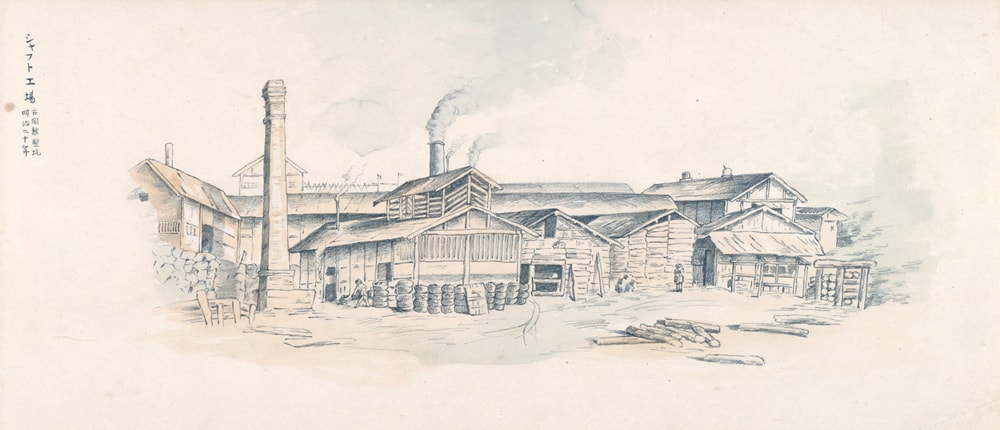 Brick factory at Yamashina Misasagi village (painted by Soryu Tamura)
In those days, important public engineering works in Japan were left to the design supervision of foreign engineers, but Lake Biwa Canal construction became the first large public engineering work completely achieved with a Japanese-only workforce. Construction started in 1885 (Meiji 18) and was completed in five years, in 1890 (Meiji 23). Though there were many hardships such as insufficient materials and the labour environment counting on manpower, technical inventions such as introducing a construction method using vertical tunnels were carried out, which was the first attempt in Japan.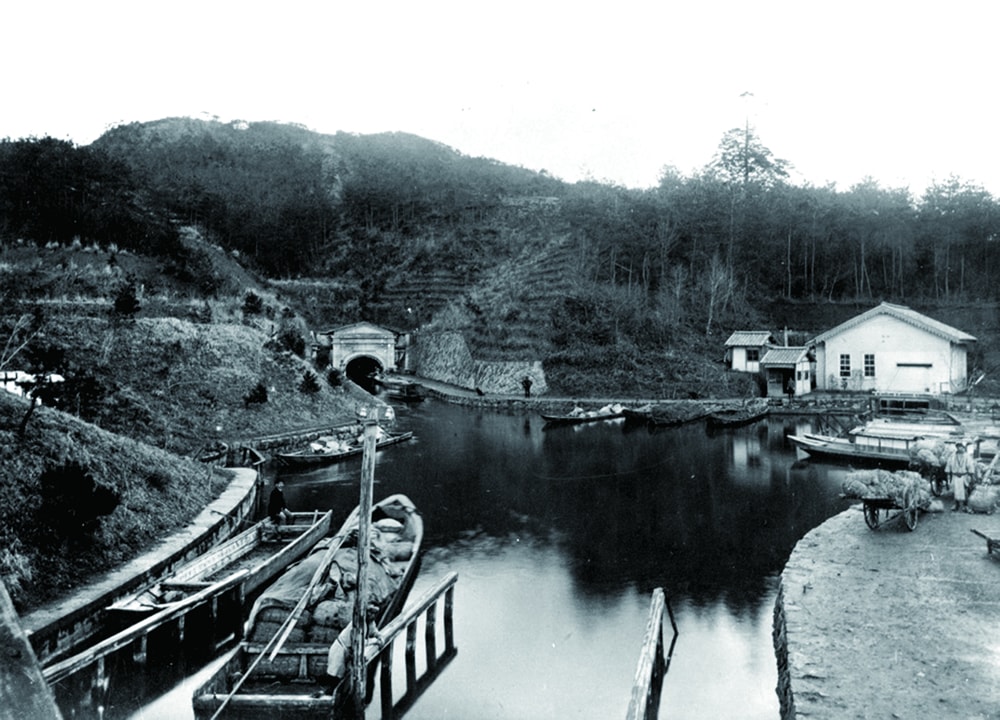 Keage Boat Reservoir and Winding "Drum" Factory (1893, Meiji 26th year)
In response to the completion of the first canal, the Keage Power Station was constructed as the first business-use hydraulic power plant in Japan, where electric power was generated using canal water for application of electric lighting and for power factories (electric power project). Also, canal excavation achieved boat transportation of rice, charcoal, wood, and stone between Otsu, Fushimi, and Osaka , and many excursion boats carrying tourists ran back and forth along the canal (ship transportation project). Besides this, canal water was used for milling rice and spinning (hydraulic power project), and tapped for fire prevention at Higashi-Honganji temple and the Kyoto Imperial Palace, as well as for garden watering in villa groups around Nanzenji temple.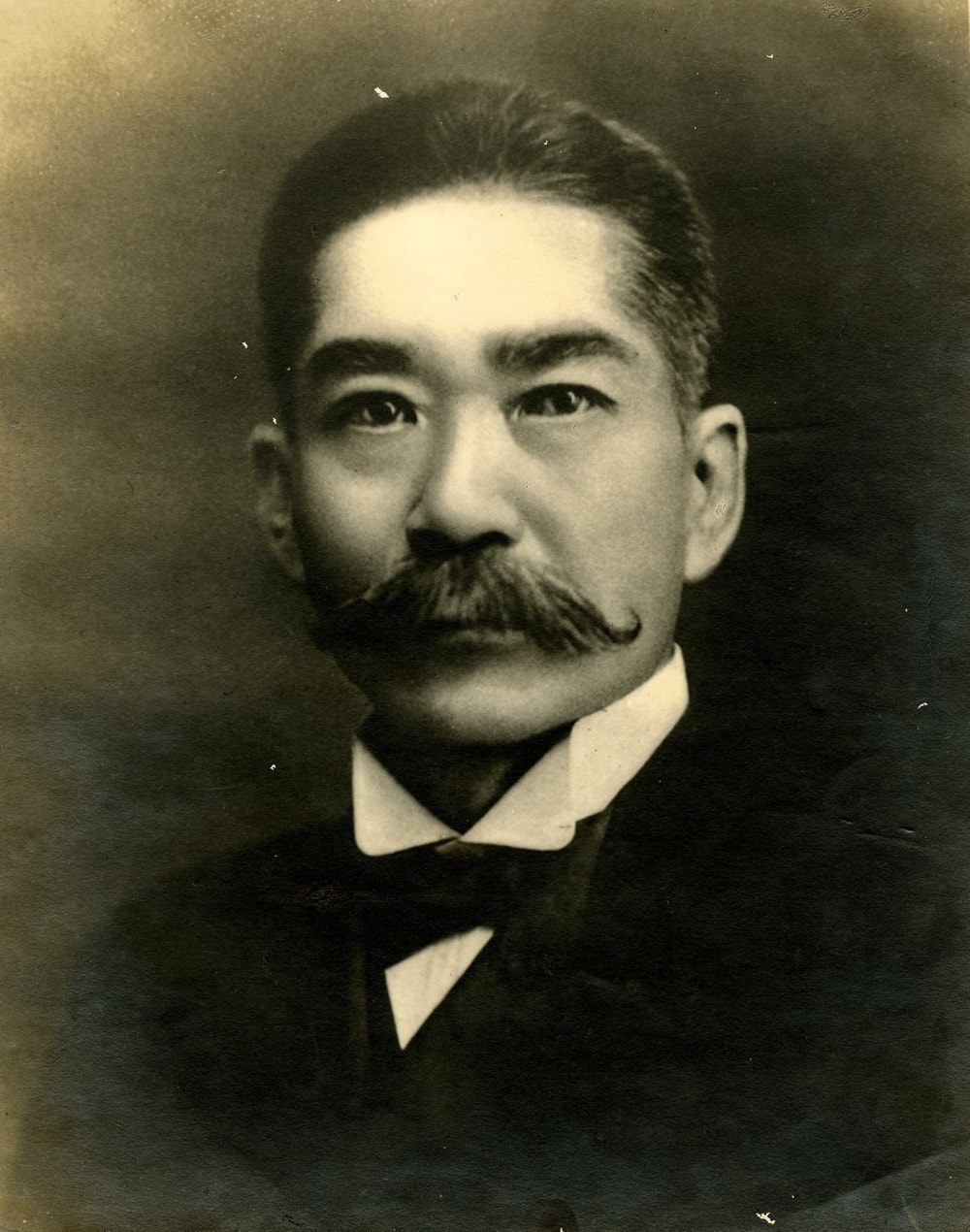 Kikujiro Saigo
On the other hand, upon entering the 30s of the Meiji Era, only the first canal water flow became insufficient to meet the increasing electric power demand as it continued increasing year by year. In addition, the quality and volume of drinking water for citizens that depended on groundwater became inadequate. In order to solve these issues, the second Kyoto Mayor, Kikujiro Saigo (eldest son of Takamori Saigo) implemented the Big Three Projects (comprising of the second Lake Biwa Canal construction and water supply maintenance, road enlargement, and municipal electric railway construction).
As the core of the Three Major Projects, the second Lake Biwa Canal construction brought canal water running completely through the tunnel adjacent to the first canal, and was launched in 1908 (Meiji 41), with completion in 1912 (Meiji 45). At the same time, the Keage Filtration Plant was completed, which adopted Japan's first rapid filtering method by taking the second canal water, and which in turn resulted in the later water project in Kyoto City.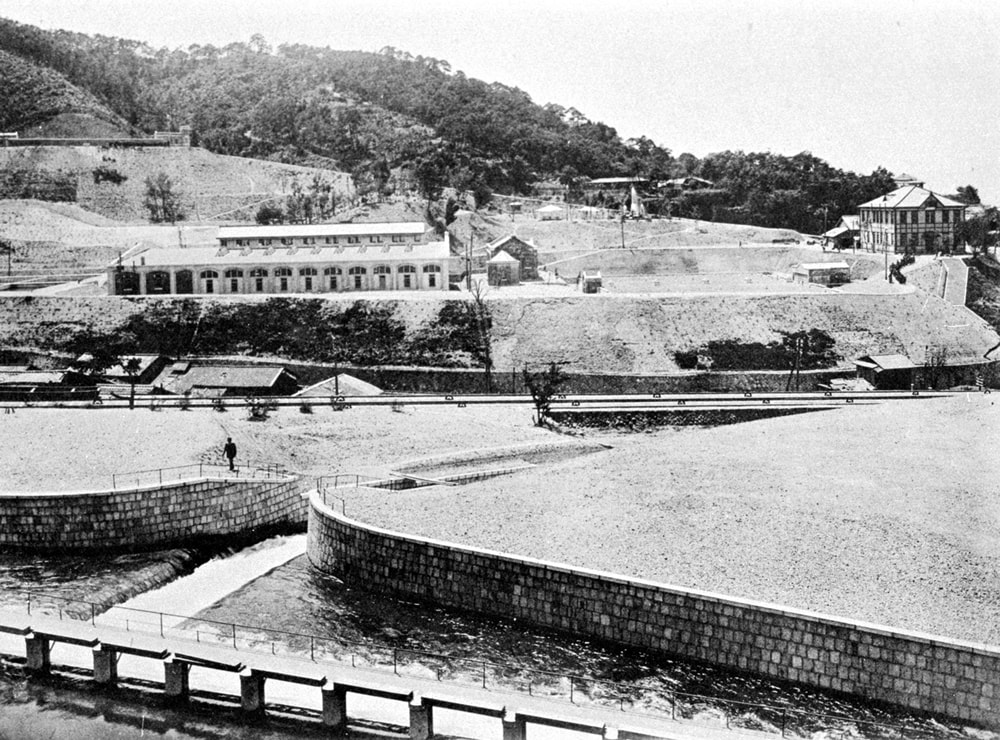 Full view of the clean water pond at the Keage Filtration Plant (May 10, 1912, Meiji 45th year)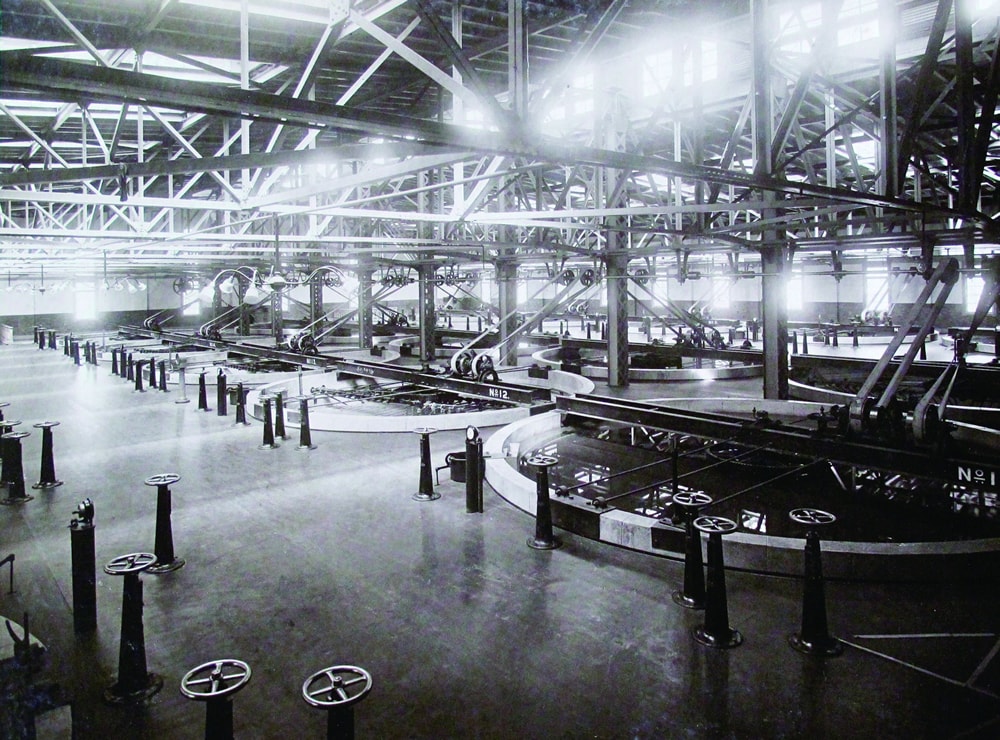 Inside of the filtering plant at the Keage Filtration Plant (March 26, 1912, Meiji 45th year)
Regarding the water supply project, the population of Kyoto City at the time of the water system foundation was approximately 0.5 million, of which the number of people the water-supply covered was approximately 0.4 million, reaching just an 8% of total residents. However, in order to respond to the increase in users and the usage of water according to the following city area expansion, the water supply expansion project was implemented over eight terms from the end of Taisho to Heisei, and the piped water supply coverage ration has reached over 99%.
Taisho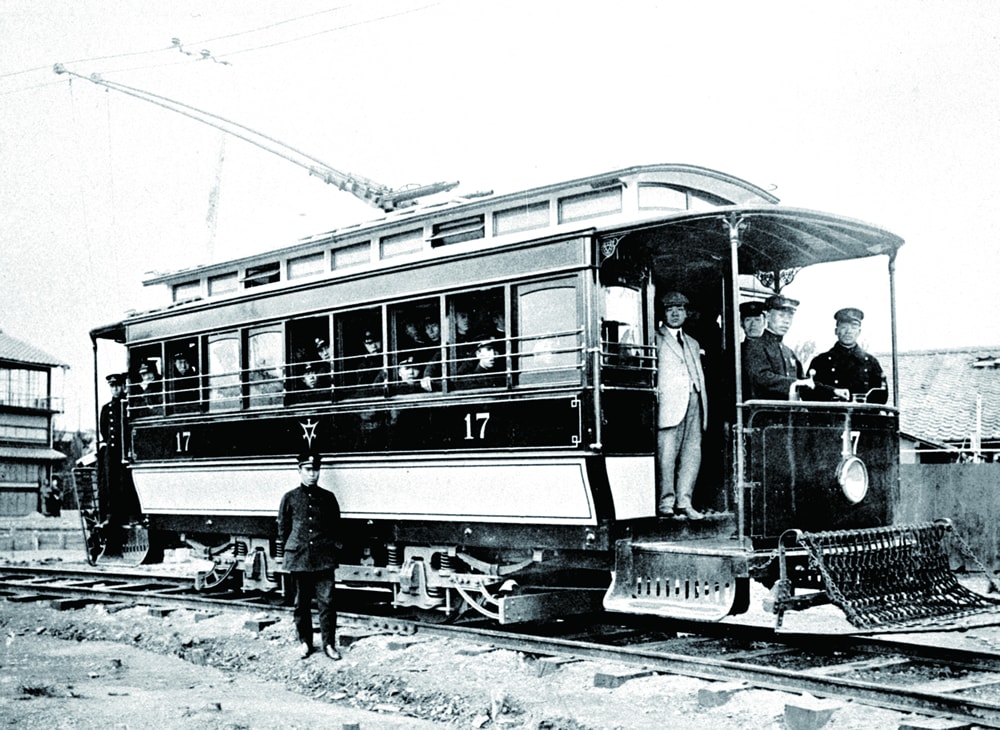 Early Kyoto Municipal electric railway car (May 10, 1912, Meiji 45th year)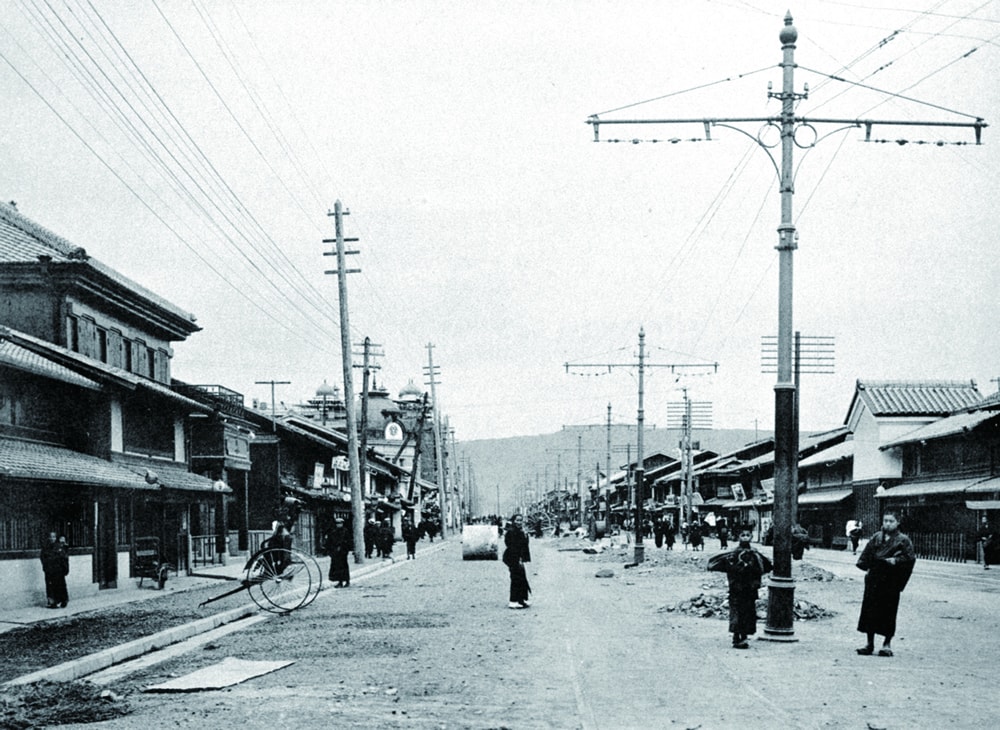 Shijo-dori after road enlargement, viewing from Shijo-Karasuma to the east (May 10, 1912, Meiji 45th year)
Since the flow of water was increased through the excavation of the second canal, the width of the first canal from Keage and downstream was then expanded to what it is today. Also, the three power plants of the second-phase Keage, Ebisugawa, and Sumizome (known as Fushimi at the time) were newly established, and this was associated with an approximately fourfold increase in power generation. Utilizing this electric power, the municipal electric railway started operation on main roads newly widened through road enlargement. On the other hand, since land transportation, including railway, had developed dramatically, boat transportation gradually decreased in cargo volume. Its function as a transportation method between Otsu and Kyoto was lost, and freight transport became more and more a key method of transport instead of water.
Showa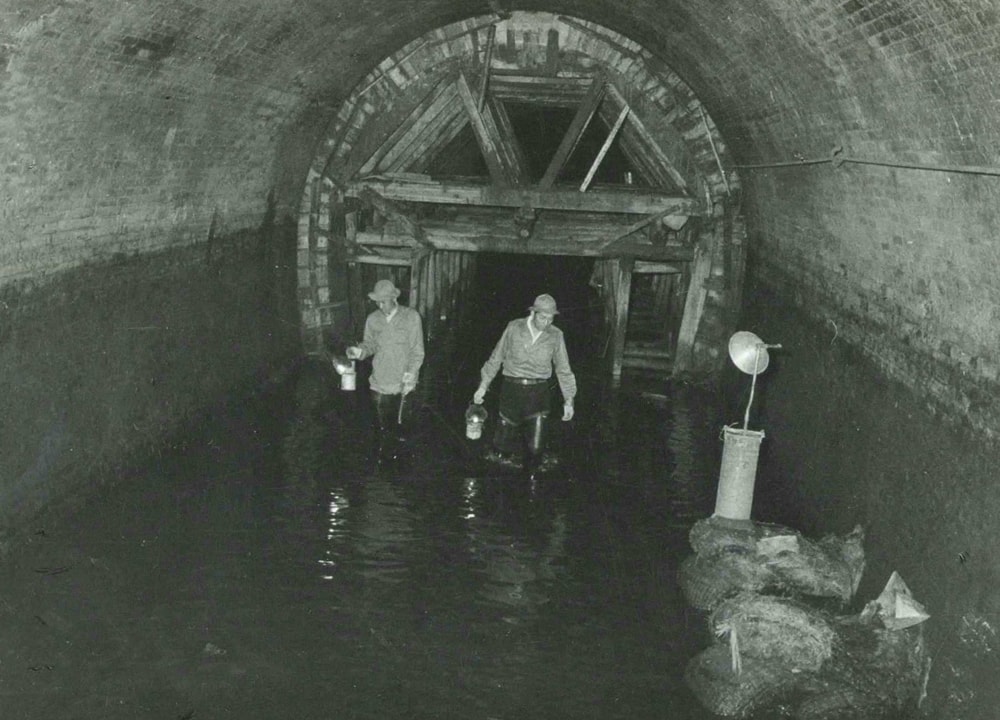 View of working inside the first tunnel (Showa 40s)
By the time Japan entered the Showa Era, the cargo volume of boat transportation had further decreased, and the Keage Incline was closed in 1948 (Showa 23rd year). As of September, 1951 (Showa 26th year), canal ship transportation was brought to a stop for a long period of time.
As for the electric power project, Kyoto City transferred the electric power business to Kansai Haiden (current Kansai Electric Power Co., Inc.) in 1942 (Showa 17th year) based on the Power Delivery Restriction Act during World War II. The three power plants of Keage, Ebisugawa, and Sumizome (former Fushimi), however, are still in operation now.
Regarding Lake Biwa Canal, renovation has been conducted numerous times since around 1945 (Showa 20). From 1968 (Showa 43rd year) to 1974 (Showa 49), large-scale renovation was conducted as a headrace maintenance project for all of the first and second aging canals between Otsu and Keage (Showa's Major Renovation).
In addition, in 1970 (Showa 45), a new Moroha tunnel was built from Shinomiya Boat Reservoir, Yamashina-ku to Anshu, due to the construction of the JNR (former name for JR) Kosei Line, and the canal water route was changed.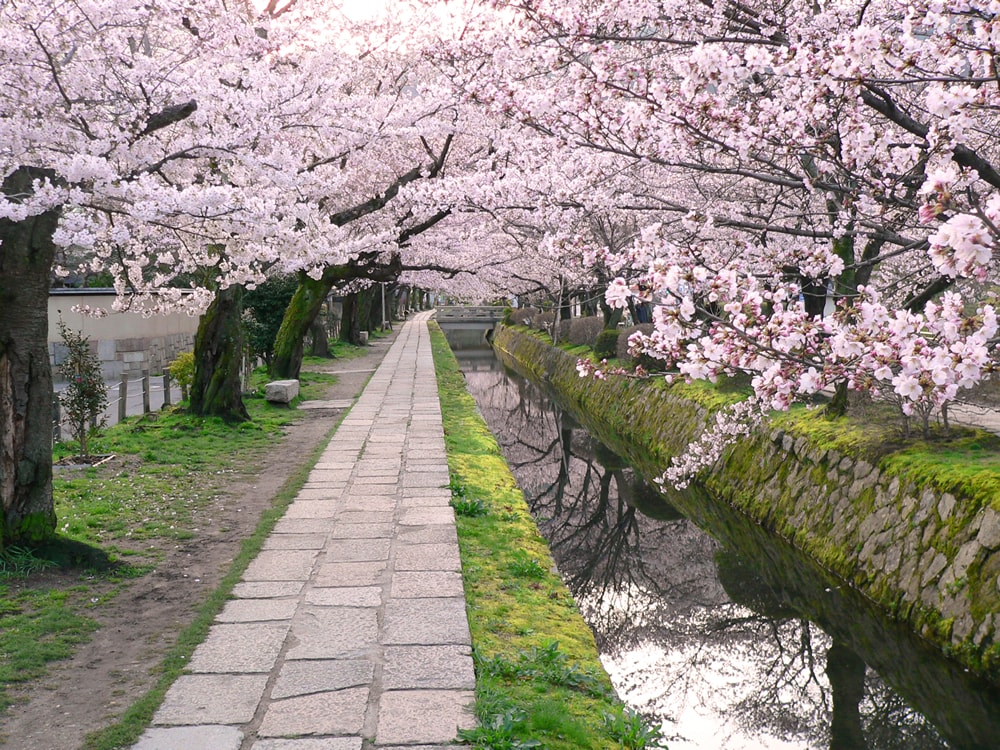 Philosophers' Path
Since around the 40s of the Showa Era, the historical value of Lake Biwa Canal, which is actively in use, gained attention. In the above background, maintenance along the canal branch, such as with "Philosophers' Path" was completed, the Keage Incline was restored, and the Higashiyama Ryokuchi Park (Yamashina-ku) was maintained. Afterwards, the Nanzenji Suirokaku and Keage Incline were designated as Kyoto City Historical Sites in 1983 (Showa 58), and furthermore, the 12 Lake related facilities to Biwa Canal including the above two sites were designated as National Historic Sites in 1996 (Heisei 8).
Heisei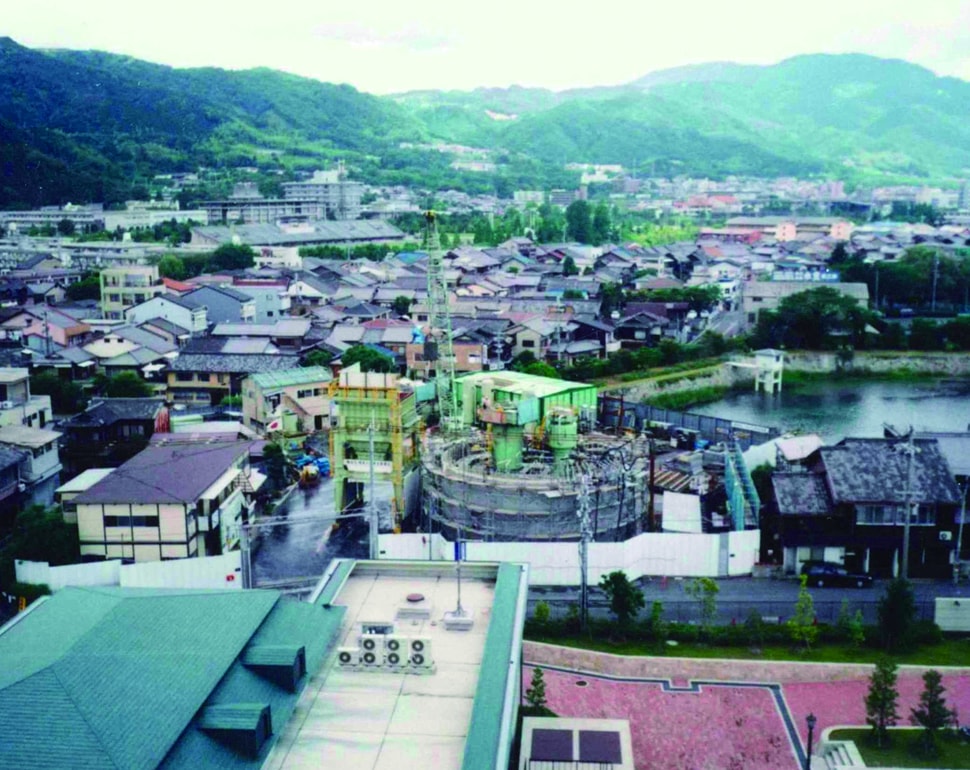 Second canal connection tunnel vertical shaft construction (Kannon-ji, Otsu City)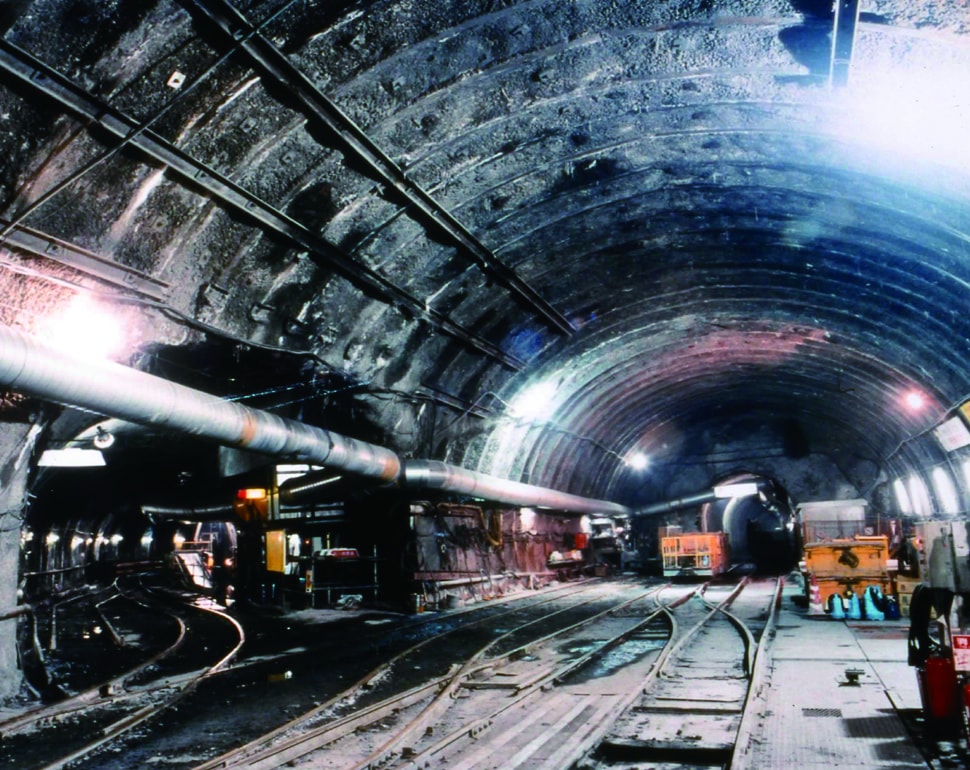 Fujio mountain tunnel operation base of the second canal connection tunnel
In 1999 (Heisei 11th), in order to take water from the second canal, which worked as a tap water source, a new second canal connection tunnel (bypass tunnel) was constructed approximately 20 meters below the first canal, which ensured a stable supply of raw tap water.
Today, we continue to make efforts to maintain pure and abundant water while performing appropriate maintenance every day.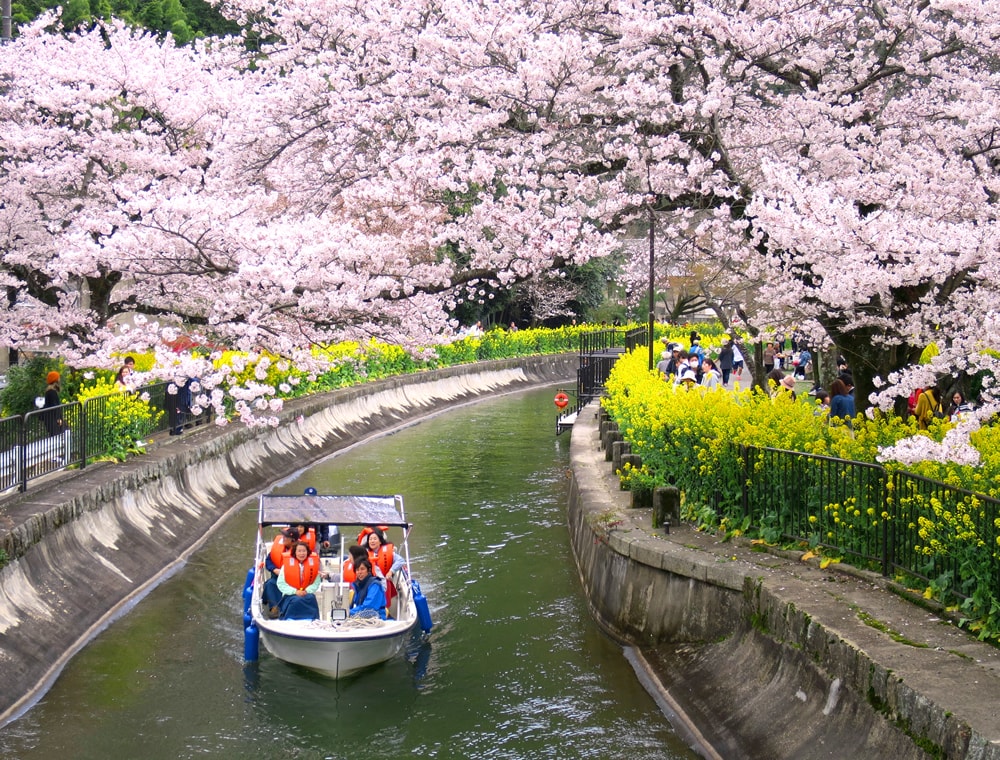 Lake Biwa Canal Boat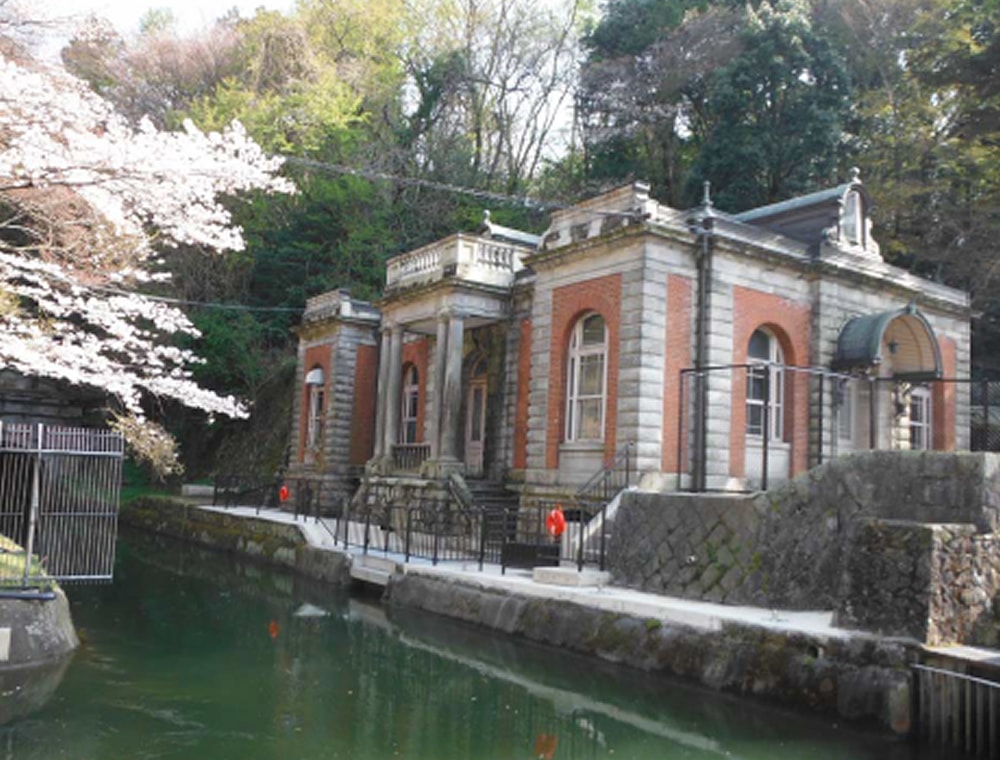 Former Gosho Water Pumping Facility
In 2015 (Heisei 27), as "Trial Project of Restoration of Lake Biwa Canal Boat Traffic", trial boat operation among Otsu, Yamashina, and Keage was started by the Lake Biwa Canal Boat Ride Planning Committee. In March, 2018 (Heisei 30), Lake Biwa boat transportation, brought to a stop in 1951 (Showa 26), began again for the first time in 67 years, and the "Lake Biwa Canal Boat Traffic Project" was started under the auspices of the newly created "Lake Biwa Canal Line Charm Creation Committee".
Plaques displayed at the Nejirimanpo tunnel under the Keage Incline includes the autographed inscription "Enjoy the 100-year dream" by Kunimichi Kitagaki. Our Meiji Era ancestors looked 100 years ahead and completed Lake Biwa Canal by overcoming many hardships. Lake Biwa Canal continues preserving and supporting the water supply of Kyoto for over 120 years, although it has adapted its use with the times to create new values of its use.